After tummy tuck.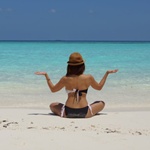 Many patients wonder what to expect during recovery from a tummy tuck. There have been quite a few very beneficial events within the field of plastic surgery that are enhancing recovery from a tummy tuck.
First, the latest change that we have brought to our practice is a drainless approach that in select cases, allows us to avoid the use of drains. While still sometimes necessary, drains are inconvenient and a source of irritation. When possible, eliminating drains from the postoperative care of a tummy tuck can be a real bonus to our patients.
Next, we have been using Exparel to reduce the postoperative pain from a tummy tuck. This medication has been around for a few years, and it has dramatically changed the patient experience. Like a local anesthetic, Exparel numbs the nerve fibers that cause pain. However, it is unlike a traditional local anesthetic because it can have a three day duration. By that time, many patients are able to remain quite comfortable just by using an oral non-narcotic.
As always, our efforts are directed at providing a pleasuring surgical result with the quickest and simpliest postoperative recovery possible. If you'd like to chat more, please contact our office through our phone or online systems.
Take a peak at the videos we've put together on this topic. You can find them at both our YouTube Channel: https://www.youtube.com/channel/UC8rUqx7Ib33Dn6v80IknIbA or here on our webpage: http://videos.brzowski.com/blog/