Virtual Consultation
For select cases, Dr. Brzowski is able to conduct a virtual consultation. To determine if you are a candidate, please complete the request form and you will be contacted.
With video consultation, initial consults can be executed conveniently right in the comfort of your own home or your setting of choice. Our system of choice for us to interact with you virtually is called TouchMD, please consider taking the time to view this informational video to learn how this amazing technology allows us to offer you an unparalleled experience.
What To Do To Prepare for Your Online Virtual Consultation:
Setting up your TouchMD account is the first step:
You will receive a welcome email from TouchMD with instructions how to log in
Your username is your email
Click the button "Create your Password" and follow the instructions
Next, you will receive an email that your TouchMD account is set up
Logging into the TouchMD portal: https://patient.touchmd.com/ or download the iPhone or Android app. Many patients find the app much easier to work with, particularly when uploading photos.
Patient Information Forms:
Once your account has been established with TouchMD, log into your account and access your Homework Folder on TouchMD. Here you will find the New Patient Forms folder. Within that folder are fillable forms that provide us with your demographic information and health history. As an alternative you may be emailed these forms for download. You will then need to fill them out, sign them and email them to [email protected] before your appointment.
For the patient to have the most worthwhile consultation experience, it is essential to have all required information prior to the online session, just as would be the case with an in-person consultation. The more information you provide, the better a consultation. When new patients are seen in an in-office consultation, they are also asked to upload their medical history ahead of time. The medical history is very important. Sometimes, seemingly insignificant facts become very important to the patient's proper care.
Necessary Equipment:
One of the two following options:
A computer/laptop with webcam
A mobile phone/tablet with camera
Ideal Setting:
Please try to find a quiet, private space with good lighting
Reliable and secure Wi-Fi connection
Submit Your Images Prior to Consultation:
For body procedures: Front, side, and back view photographs of the areas of interest. Make sure that your arms are held out to the side.
For breast procedures: Front, oblique and side view photographs from your collar bone to your belly button. Make sure that your arms are at your side.
Clothing: For breast photos, the chest needs to be bare. For body photos, it is preferable without clothing or underwear. This is because bra straps and underwear cut into the skin and hide important contours. While optimal photos will have no clothing, you must do what you are most comfortable with. If you want to wear underwear, try to select a garment that will reveal as much as possible of the portions of your body that you wish to address. The pre-op visit will be used for a full examination of the areas to be treated and final adjustments in the treatment plan can be made at that time. Do not stress over this. We are here to work with you.
Uploading photos:
We use TouchMD as the portal for you to upload photos. Following the guidelines above, please upload these photos using uniform lighting and good focus. The quality of the photographs is usually much higher if you have someone else take them for you. As a reminder, TouchMD is a special HIPPA compliant, safe, and secure application with a portal that you can log into and visit to:
Easy uploading of photos
Explore procedures and services we offer
Review recommended topics selected by us
Re-live each consultation saved to your personal timeline
To upload photos into your TouchMD folder
Step 1: Install & log into the myTouchMD patient app
Step 2: Select the menu in the upper right-hand corner and tap "Add Photo"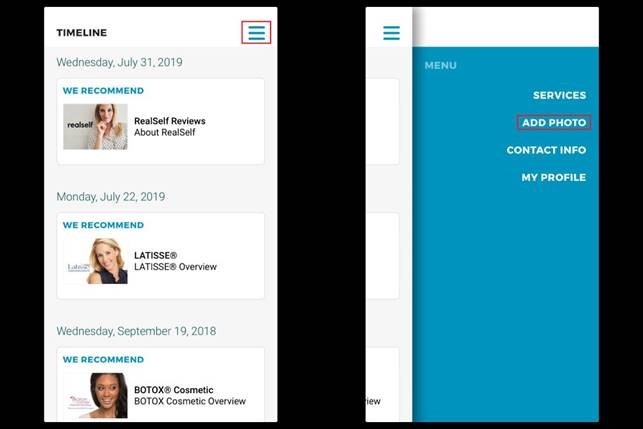 Step 3: Review and agree to the terms by selecting "I Agree" (You will need to do this every time you upload a photo!)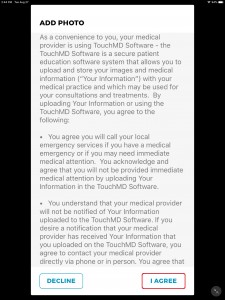 Step 4: Take or upload a photo and select "Upload". If you have saved screenshots of other cases from various websites, you can upload these as well.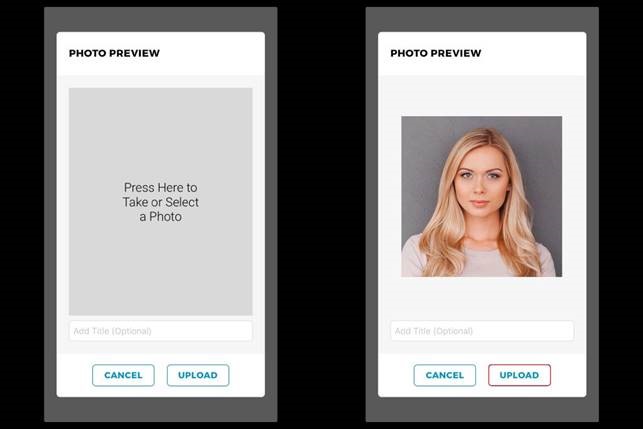 What to Know:
The initial consultation fee of $100 is applicable towards your in-person consult and total cost of procedure
Prepare any questions you may have about your treatment beforehand
During the discussion with Dr. Brzowski, he will review your photographs, discuss your problem areas, and formulate a plan of treatment. At the conclusion of the visit, Dr. Brzowski's patient coordinator will provide you with the necessary information to schedule a procedure as well as all of his customary fees.
This appointment will not eliminate the need for an in-person examination prior to your procedure. While a video call is a great method of communication, some physical nuances could be missed, and your treatment plan may change after meeting in person.
Copyright &copy 2023 Brzowski Plastic Surgery. All rights reserved.
Alternate Phone: (801) 479-5722